The Upcoming Acer Iconia A1-840FHD: Preview
The upcoming tablet, Acer Iconia A1-840FHD is predicted to be making impressive progress towards popularity during its release. With the impressive innovation in comparison to other products in the same league from this manufacturer, the released news regarding its specifications along with the demonstration of its performance at Computex 2014, managed to gain the product quite much attention due to the seemingly promising features and its nice design. The tab 8 is KitKat based Android tablet, it has a Full HD resolution and it also has packaged with an Intel Atom processor along with a super bright screen. The design is brimming with high-end technology look with a really nice metallic finish which accentuates the sleekness of the device, making it looks all the more impressive.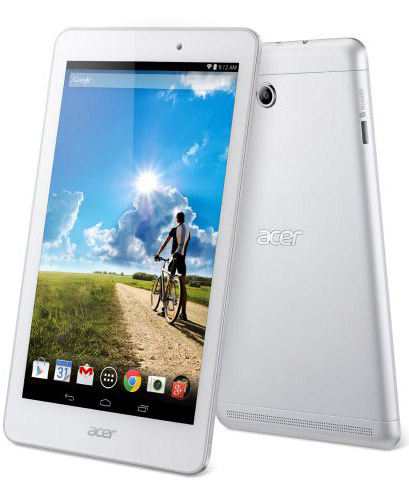 Acer Iconia A1-840FHD
First, let's talk about the outer design of the device along with its display. Forgive the pun, but we should say that the screen is among the bright and shiny points of this device. It got sharp resolution up to 1920x1200 resolutions and it has a wide viewing angle which makes the display all the more of an impressive feat. A crisper detail of a brighter image makes gives not only give the device a nicer display but it also makes it possible to see what showed on it clearly since it block excessive reflectivity, hence, gives it a better display under exposure of sunlight. To speak further of its design, the outer look of this new and upcoming tab is rather slim; it is incredibly easy and light to be held even with just one hand and the metal coating makes gripping it feel pleasant. The thickness is just about 8.5 mm and it weighs only 360 g. If you move your gaze on the top of it, you can see a mini port of HDMI.
As for the specification and the software, well, this new tab is using the latest quad core Atom processors, which runs at 1.86 Gigahertz, giving it a nice and smooth performance at general basis of usage. It has 2 Gigabyte of RAM and it has two options for storage; either 32 GB or 16 GB. Due to this, the device shows a great performance and fast processing of programs, as expected. Moreover, out of several tests and demonstration on the product, it is quite consistent and it shows minor to non-existent lag or flaws when switching between the functions of applications. The battery life is also not too bad, it can last about seven hours, which is not the best out there, but it is still not a bad feat for a tab. Overall, it has a lot of neat nice features and it seems that it will gain a lot of popularity once it is really out on the market. The package will come along with accessories along with its Acer iconia A1-840FHD user manual that will guide you around to know your way with its features.
Acer iconia A1-840FHD specs :
OS : Android v.4.4.2 (KitKat).
Chipset : Intel Atom Z3745.
CPU : Quad-core 1.86 GHz.
No SIM.
Wi-fi 802.11 b/g/n.
Camera : Yes (Primary and Secondary).
RADIO : No.
Colors : Silver.
GPS : TBD.
Browser : HTML5.
Messaging : Email, Push Mail, IM.
Display Type : IPS LCD capacitive touchscreen, 16M colors.
Battery : Up to 7 h 30 min (multimedia).
Learn more this gadget with read user manual in below. So, you can use Acer Iconia A1-840FHD better :
Download Acer Iconia A1-840FHD User Manual in here.
Hopefully useful to user Acer Iconia A1-840FHD.
Please coment below about this article.